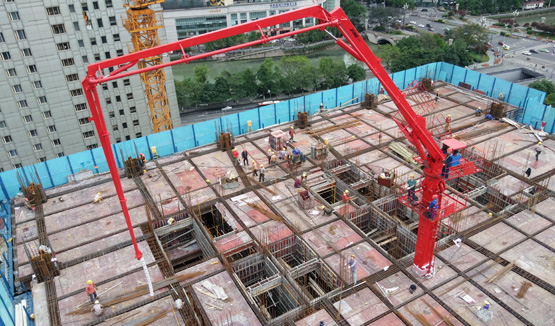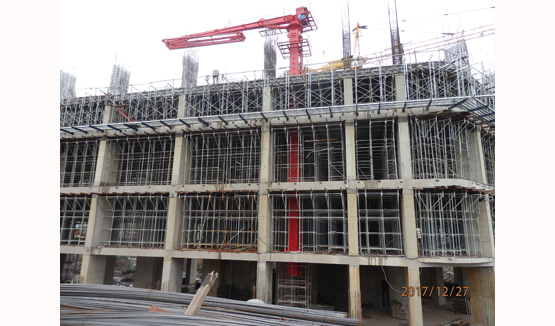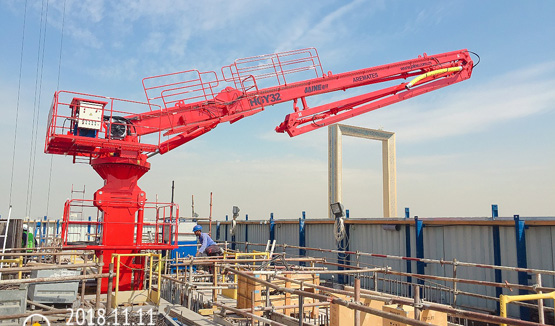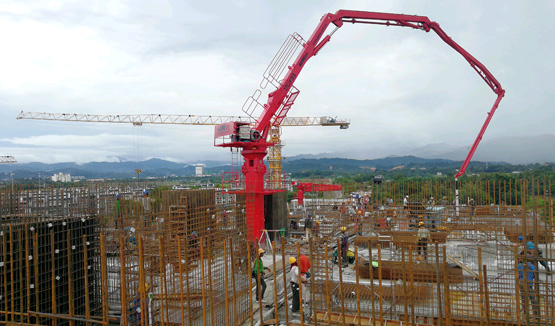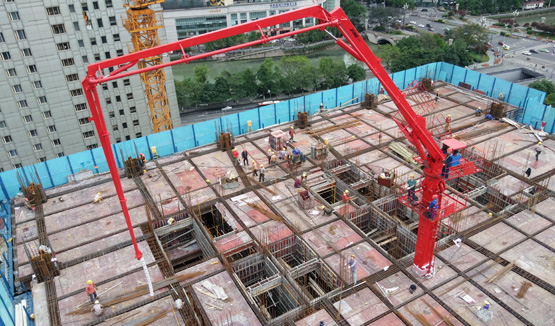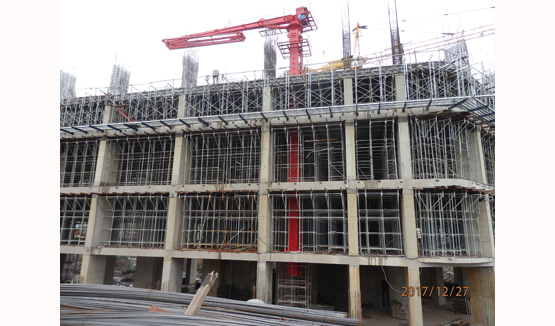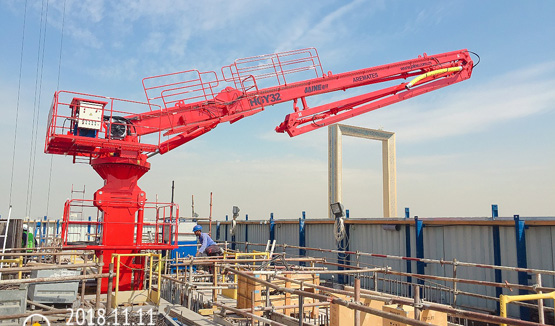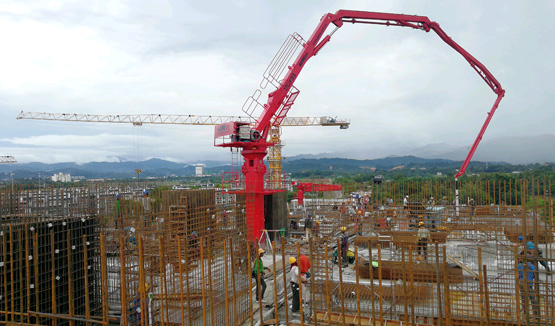 Floor-Fixed Self-Climbing placing boom
Product Description
Max. horizontal reach 17 / 21 / 24 / 28 / 32 / 33 m
Stationary height 22.5 m
Product Features
HGY33 concrete placing boom is used for concrete placement with the aid of a concrete pump. It is suitable for the construction of any concrete structures, such as buildings, bridges, foundations, etc. Equipped with a self-climbing system, the placing boom is more applicable for high-rise buildings, greatly improving the efficiency of construction and the quality of concrete placement, and decreasing labor intensity.
The HGY33 consists of the tower body, self-climbing system, slewing mechanism, upper-lower pedestals, boom assembly, hydraulic system, electrical system, etc. The boom assembly has three boom sections which are box type structure, and which are folded or unfolded by hydraulic cylinders. With the folding/unfolding and slewing of the boom assembly, you can place concrete to any construction locations within its reach.
With the hydraulic self-climbing system, the placing boom is able to climb up alongside the prepared floor-openings in the building with the rise of floor levels. The placing height relies on the capacity of your concrete pump.
The HGY33 features standard concrete pipelines with a nominal inner diameter of 125 mm, conforming to JJ83-91 of China National Standard.
The hydraulic system is provided with safety relief valves to prevent the working mechanism from overloading. Cylinders feature hydraulic locks to ensure safety operation. And the slewing mechanism is equipped with a slewing limiter to keep the placing boom from continuously swinging.
However, mounting or dismounting the placing boom needs a mobile crane or a tower crane.
Main Technical Specification
Model

HGY17

HGY21

HGY24

HGY28

HGY32

HGY33

1

Horizontal(m)

17

21

24

28

32

33

2

Length of booms (m)

1st section

6.67

7.96

9.03

10.23

14.23

8.86

2nd section

5.73

6.95

7.95

9.31

9.31

8.02

3rd section

4.6

6.1

7.03

8.47

8.47

8.01

4th section

–

7.85

3

Articulation of booms (°)

1st section

0~90

0~92

2nd section

0~180

0~177

3rd section

0~180

0~180

4th section

–

0~181

4

Rotation angle (°)

360

5

Stationary height (m)

22

6

Tower structure (mm)

750×750

7

Delivery pipe dimension (mm)

Ф125

8

Length of hose (mm)

3000

3000

3000

9

Mode of operation

Radio Remote/Cable/Panle control

10

Output (kW)

5.5

11

15

11

Hydraulic pressure (MPa)

20

22

20

23

28

12

Power

380V/50Hz
Product details
application example