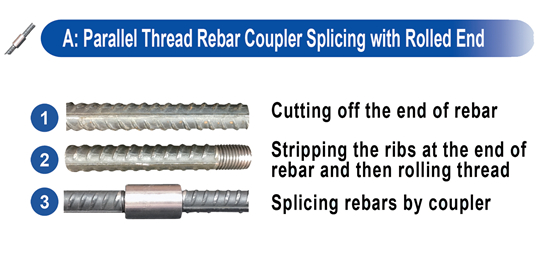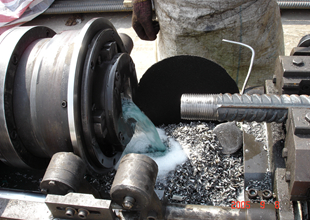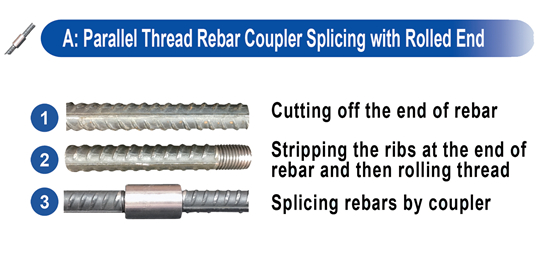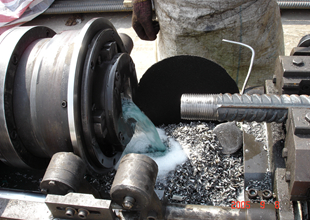 Parallel Thread Rebar Splicing with Rolled End
Product Description
Model GHB32/GHB40/GHB50
Working Capacity 12-50mm
Rebar Grade HPB335, HRB400 and HRB500
Max. Thread Length 130mm / 350mm
Material C45 or 40 Cr
Parallel Thread Rebar Splicing with Rolled End
Rebar stripping and rolling parallel thread splicing technology is CABR's patent. This rebar mechanical splice mode is very popular in China. CABR rebar parallel thread splcing system designed for the connection of concrete reinforcing bars from Φ12~Φ50mm. We also could producing rebar thread and coupler as your technical requirements.
Three Steps Manufacturing Process
1. Cutting off the end of rebar;
2. Stripping the ribs at the end of rebar and then rolling thread;
3. Splicing rebars by coupler.
Technical Advantages
1) High splicing strength, which could exert ultimate tensile and compression strength of rebar, it could satisfy the requirements stipulated in the Chinese standard JGJ107, American standard UBC1997, British standard BS8110, French standard NF35-20-1, German standard DIN1045, ISO15835 and other requirements in the relevant standards;
2) Easy to operate and maintain, no need for technicians, fast splicing on construction site;
3) High production efficiency, 300 to 500 thread could be produced during one shift. The splicing could be produced in advance without influencing the construction period;
4) Inexpensive to purchase, maintain and repair.
5) Environment-friendly, safe, no environment and weather restrictions.
6) Manufactured under strict quality assurance plan ISO 9001.
Technical Data
Name 

Rebar Rib-Peeling and Thread Rolling Machine

Model

GHB32

GHB40

GHB50

GM350

Diameter of Rebar

12 – 32 mm

16 – 40 mm

25 – 50 mm

16 – 40 mm

Speed

87 RPM

87 RPM

Maximum length of thread

90mm

350mm

Rated Power

3 kW

4 kW

5.5 kW

4 kW

Voltage

380[V] – 50 [Hz] or customized

Total Weight

500 kg

590 kg

680 kg

680KG

Dimension

–

–

–
Technical Data of Rebar Coupler
Rebar Dia.

(mm)

Coupler Length (L) (mm)

Outside Diameter (D) (mm)

Screw Thread Size

(mm)

Thread Angle

(°)

Weight

(kg)

Z12

32

19.5

M12.7*1.75

60°/75°

0.048

Z14

36

23

M14.8*2

60°/75°

0.072

Z16

40

26

M16.5*2

60°/75°

0.091

Z18

46

29

M18.5*2.5

60°/75°

0.153

Z20

50

32

M20.5*2.5

60°/75°

0.21

Z22

54

35

M22.5*2.5

60°/75°

0.286

Z25

62

40

M25.6*3.0

60°/75°

0.381

Z28

68

44.5

M28.6*3.0

60°/75°

0.568

Z32

76

51

M32.6* 3.0

60°/75°

0.692

Z36

84

57

M36.5* 3.0

60°/75°

0.923

Z40

105

63

M40.2* 3.0

60°/75°

1.346

Z50

125

79

M50.4* 3.5

60°/75°

1.521

Rebar Grade

Yield strength: 500Mpa, Tensile strength: 630Mpa -In China its model: HRB500

Material

45# High quality carbon steel or according to customers' requirements
application example